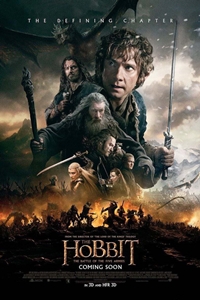 The Hobbit: The Battle of the Five Armies
Opens January, 16th 2018
Rated PG-13
Runtime 2 hr. 24 min.
Starring Martin Freeman, Cate Blanchett, Hugo Weaving, Elijah Wood
Directed by Peter Jackson
Genre Action/Adventure, SciFi/Fantasy
SynopsisThis final battle brings to an epic conclusion the adventures of Bilbo Baggins, Thorin Oakenshield, and the Company of Dwarves. Having reclaimed their homeland from the Dragon Smaug, the Company has unwittingly unleashed a deadly force into the world.