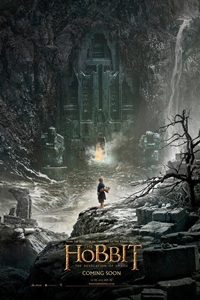 The Hobbit: The Desolation of Smaug
Opens January, 9th 2018
Rated PG-13
Runtime 2 hr. 41 min.
Starring Martin Freeman, Orlando Bloom, Cate Blanchett, Hugo Weaving
Directed by Peter Jackson
Genre Action/Adventure
SynopsisThis film continues the adventures of the title character Bilbo Baggins as he journeys with the Wizard Gandalf and thirteen Dwarves, led by Thorin Oakenshield on an epic quest to reclaim the lost Dwarf Kingdom of Erebor.