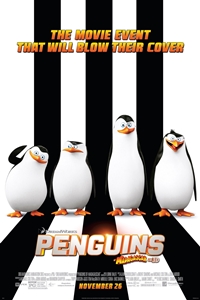 Opened July, 17th 2018
Rated PG
Runtime 1 hr. 32 min.
Starring Tom McGrath, Chris Miller, Chris Knights, John Malkovich
Directed by Simon Smith, Eric Darnell
Genre Animation, Comedy
SynopsisSkipper, Kowalski, Rico and Private now must join forces with the chic spy organization, the North Wind, led by Agent Classified to stop the villainous Dr. Octavius Brine from taking over the world.