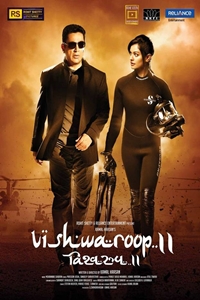 Rated NR
Runtime 2 hr. 25 min.
Starring Kamal Haasan, Rahul Bose, Pooja Kumar, Andrea Jeremiah
Directed by Kamal Haasan
Genre Suspense/Thriller
SynopsisA sequel to the film Vishwaroopam which brewed political storm as soon as it was released. The film takes up from where the first ended. After escape from Omar, the story continues in India. The film explores the human relationship and its emotional angle.