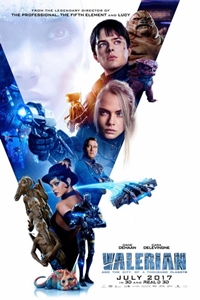 Valerian and the City of a Thousand Planets
Opened July, 20th 2017
Rated PG-13
Runtime 2 hr. 17 min.
Starring Dane DeHaan, Cara Delevingne, Clive Owen, Rihanna
Directed by Luc Besson
Genre Action/Adventure
SynopsisValerian and Laureline are special operatives for the government of the human territories charged with maintaining order throughout the universe. Under directive from their Commander, Valerian and Laureline embark on a mission to the breathtaking intergalactic city of Alpha.