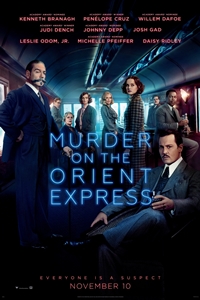 Murder on the Orient Express
Opened November, 10th 2017
Rated PG-13
Runtime 1 hr. 49 min.
Starring Kenneth Branagh, Willem Dafoe, Penélope Cruz, Judi Dench
Directed by Kenneth Branagh
Genre Drama
SynopsisA lavish train ride through Europe quickly unfolds into one of the most thrilling mysteries ever told. Thirteen strangers stranded on a train, where everyone is a suspect. One man must race against time to solve the puzzle before the murderer strikes again.