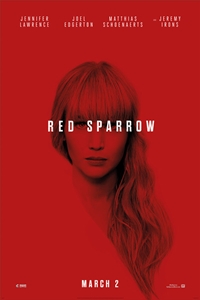 Opened March, 2nd 2018
Rated R
Runtime 2 hr. 20 min.
Starring Jennifer Lawrence, Joel Edgerton, Matthias Shoenearts, Jeremy Irons
Directed by Francis Lawrence
Genre Suspense/Thriller
SynopsisDominika Egorova is drafted against her will to become a "sparrow," a trained seductress in the Russian security service. Her first target is Nate Nash, a CIA officer who handles the agency's most sensitive infiltration of Russian intelligence. The two young operatives fall into a spiral of attraction and deception.