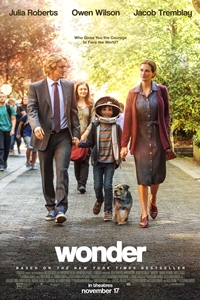 Opened November, 17th 2017
Rated PG
Runtime 1 hr. 43 min.
Starring Julia Roberts, Jacob Tremblay, Owen Wilson
Directed by Stephen Chbosky
Genre Drama
SynopsisWONDER tells the inspiring and heartwarming story of August Pullman. Born with facial differences that, up until now, have prevented him from going to a mainstream school, Auggie becomes the most unlikely of heroes when he enters the local fifth grade.