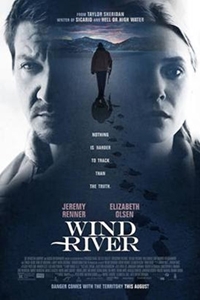 Opened August, 4th 2017
Rated R
Runtime 1 hr. 50 min.
Starring Martin Sensmeier, Elizabeth Olsen, Jon Bernthal, Jeremy Renner
Directed by Taylor Sheridan
Genre Suspense/Thriller
SynopsisWIND RIVER is a chilling thriller that follows a rookie FBI agent (Elizabeth Olsen) who teams up with a local game tracker with deep community ties and a haunted past (Jeremy Renner) to investigate the murder of a local girl on a remote Native American Reservation in the hopes of solving her mysterious death.