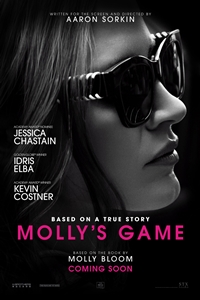 Opened January, 5th 2018
Rated R
Runtime 2 hr. 20 min.
Starring Jessica Chastain, Idris Elba, Kevin Costner, Michael Cera
Directed by Aaron Sorkin
Genre Drama
SynopsisMOLLY'S GAME is the true story of Molly Bloom, an Olympic-class skier who ran the world's most exclusive high-stakes poker game for a decade before being arrested in the middle of the night by 17 FBI agents wielding automatic weapons.