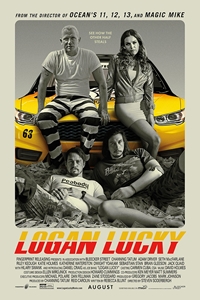 Opened August, 17th 2017
Rated PG-13
Runtime 1 hr. 59 min.
Starring Channing Tatum, Adam Driver, Riley Keough, Hilary Swank
Directed by Steven Soderbergh
Genre Comedy
SynopsisTrying to reverse a family curse, brothers Jimmy (Channing Tatum) and Clyde Logan (Adam Driver) set out to execute an elaborate robbery during the legendary Coca-Cola 600 race at the Charlotte Motor Speedway.