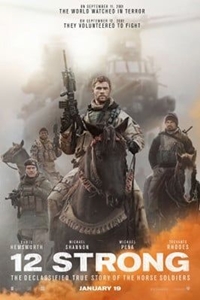 Opened January, 19th 2018
Rated R
Runtime 2 hr. 10 min.
Starring Chris Hemsworth, Michael Shannon, Michael Peña, Navid Negahban
Directed by Nicolai Fuglsig
Genre Drama
SynopsisSet in the harrowing days following 9/11, a U.S. Special Forces team, led by their new Captain, Mitch Nelson, is chosen to be the first U.S. troops sent into Afghanistan for an extremely dangerous mission. There, they must convince Northern Alliance General Dostum to join forces with them to fight their common adversary: the Taliban and their Al Qaeda allies.