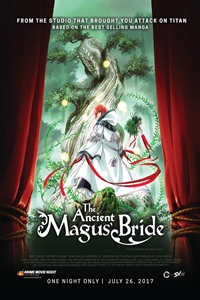 Opened July, 26th 2017
Runtime 1 hr. 35 min.
Starring Atsumi Tanezaki, Ryouta Takeuchi, Kouki Uchiyama, Aya Endou
Directed by Norihiro Naganuma
Genre Animation
SynopsisHatori Chise has lived a life full of neglect and abuse, devoid of anything resembling love. Far from the warmth of family, she has had her share of troubles and pitfalls. Just when all hope seems lost, a fateful encounter awaits her. When a man with the head of a beast, wielding strange powers, obtains her through a slave auction, Chise's life will never be the same again.