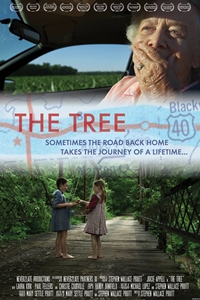 Opened August, 2nd 2017
Rated NR
Runtime 1 hr. 35 min.
Starring Kip Niven, Laura Kirk, Joicie Appell, Herman Johansen
Directed by Stephen Wallace Pruitt
Genre Drama
SynopsisInspired by an actual friendship between the director's mother and his mother's best friend, "The Tree" is a poignant, heart-warming story about Dorothy Thorp (Joicie Appell), an 88-year-old widow who takes a road trip from Wamego, Kansas, back to Terre Haute, Indiana, to reunite with her oldest and dearest childhood friend.