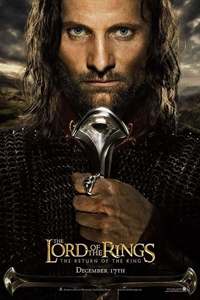 The Lord of the Rings: The Return of the King
Opens February, 6th 2018
Rated PG-13
Runtime 3 hr. 30 min.
Starring Elijah Wood, Liv Tyler, Ian McKellen, Viggo Mortensen
Directed by Peter Jackson
Genre Action/Adventure
SynopsisAs the shadow of Mordor grows across the land, the warrior Aragorn is revealed to be the lost King of Gondor, the hidden heir to the ancient kings. Sauron's forces have laid siege to Minas Tirith, the capital of Gondor, in their efforts to eliminate the race of men. The once-great kingdom, watched over by a fading steward, has never been in more desperate need of its king. But can Aragorn answer the call of his heritage and become what he was born to be? And, while the armies of the Dark Lord are massing, The One Ring comes ever closer to the Cracks of Doom.