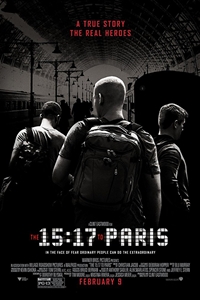 Opened February, 9th 2018
Rated PG13
Runtime 1 hr. 34 min.
Starring Anthony Sadler, Alek Skarlatos, Spencer Stone, Jenna Fischer
Directed by Clint Eastwood
Genre Drama
SynopsisIn the early evening of August 21, 2015, the world watched in stunned silence as the media reported a thwarted terrorist attack on Thalys train #9364 bound for Paris - an attempt prevented by three courageous young Americans traveling through Europe.