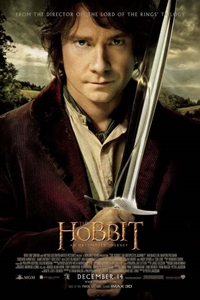 Hobbit: An Unexpected Journey, The
Opened December, 14th 2012
Rated PG-13
Runtime 2 hr. 50 min.
Starring Ian McKellen, Martin Freeman, Richard Armitage, Ken Stott
Directed by Peter Jackson
Genre Action/Adventure
SynopsisThe adventure follows the journey of title character Bilbo Baggins, who is swept into an epic quest to reclaim the lost Dwarf Kingdom of Erebor from the fearsome dragon Smaug. Approached out of the blue by the wizard Gandalf the Grey, Bilbo finds himself joining a company of thirteen dwarves led by the legendary warrior, Thorin Oakenshield. Their journey will take them into the Wild; through treacherous lands. Bilbo Baggins not only discovers depths of guile and courage that surprise even him, he also gains possession of Gollum's "precious" ring that holds unexpected and useful qualities... A simple, gold ring that is tied to the fate of all Middle-earth in ways Bilbo cannot begin to know.