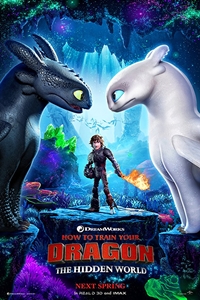 How to Train Your Dragon: The Hidden World 3D
Opened February, 22nd 2019
Rated PG
Runtime 1 hr. 44 min.
Starring Kristen Wiig, Gerard Butler, Cate Blanchett, Jonah Hill
Directed by Dean DeBlois
Genre Animation
SynopsisAs Hiccup fulfills his dream of creating a peaceful dragon utopia, Toothless' discovery of an untamed, elusive mate draws the Night Fury away. When danger mounts at home and Hiccup's reign as village chief is tested, both dragon and rider must make impossible decisions to save their kind.