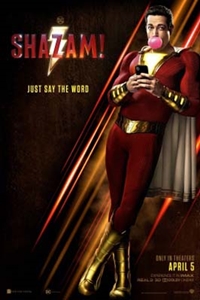 Opened April, 5th 2019
Rated PG-13
Runtime 2 hr. 12 min.
Starring Zachary Levi, Asher Angel, Jack Dylan Grazer
Directed by David F. Sandberg
Genre Action/Adventure, SciFi/Fantasy
SynopsisWe all have a superhero inside us, it just takes a bit of magic to bring it out. In Billy Batson's case, by shouting out one word - SHAZAM! - this streetwise 14-year-old foster kid can turn into the adult superhero Shazam.