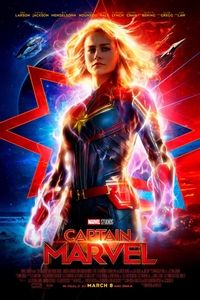 Opened March, 8th 2019
Rated PG13
Runtime 2 hr. 10 min.
Starring Brie Larson, Samuel L. Jackson, Ben Mendelsohn, Djimon Hounsou
Directed by Anna Boden and Ryan Fleck
Genre Action/Adventure, SciFi/Fantasy
SynopsisThe story follows Carol Danvers as she becomes one of the universe's most powerful heroes when Earth is caught in the middle of a galactic war between two alien races.