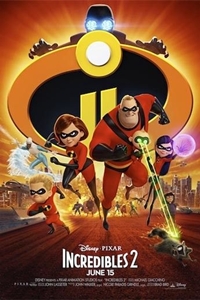 Opened August, 31st 2018
Rated PG
Runtime 2 hr. 6 min.
Starring Craig T. Nelson, Holly Hunter, Sarah Vowell, Huck Milner
Directed by Brad Bird
Genre Animation
SynopsisEveryone's favorite family of superheroes is back in Incredibles 2 but this time Helen is in the spotlight, leaving Bob at home with Violet and Dash to navigate the day-to-day heroics of normal life.