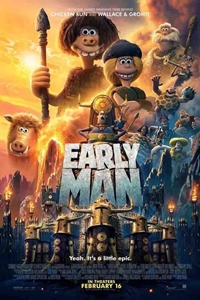 Opened February, 16th 2018
Rated PG
Runtime 1 hr. 29 min.
Starring Eddie Redmayne, Tom Hiddleston, Maisie Williams, Timothy Spall
Directed by Nick Park
Genre Animation
SynopsisSet at the dawn of time, when prehistoric creatures and woolly mammoths roamed the earth, EARLY MAN tells the story of how plucky caveman Dug, along with sidekick Hognob, unites his tribe against the mighty Bronze Age in a battle to beat them at their own game.