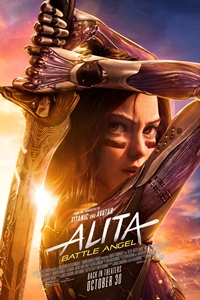 Opened February, 14th 2019
Rated PG13
Runtime 2 hr. 2 min.
Starring Rosa Salazar, Christoph Waltz, Jennifer Connelly, Mahershala Ali
Directed by Robert Rodriguez
Genre Action/Adventure, Romance
SynopsisDetermined to uncover the truth behind her origin, Alita sets out on a journey that will lead her to take on the injustices of this dark, corrupt world, and discover that one young woman can change the world in which she lives.