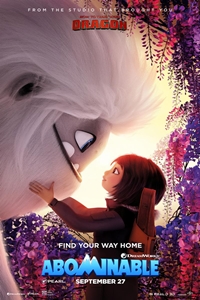 Opened September, 27th 2019
Rated PG
Runtime 1 hr. 37 min.
Starring Chloe Bennet, Albert Tsai, Sarah Paulson, Tenzing Norgay Trainor
Directed by Jill Culton, Todd Wilderman
Genre Animation, Comedy, Action/Adventure
SynopsisWhen a mischievous group of friends encounter a young Yeti, they embark upon an epic quest to reunite the magical creature with his family at the highest point on Earth.