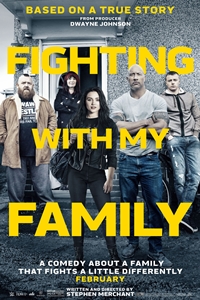 Opened February, 22nd 2019
Rated PG-13
Runtime 1 hr. 48 min.
Starring Florence Pugh, Lena Headey, Nick Frost, Jack Lowden
Directed by Stephen Merchant
Genre Comedy
SynopsisBased on a true story, FIGHTING WITH MY FAMILY follows reformed gangster Ricky, wife Julia, daughter Paige and son Zak as they make a living wrestling together in tiny venues.