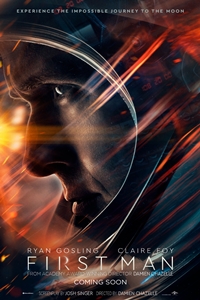 Opened October, 12th 2018
Rated PG-13
Runtime 2 hr. 21 min.
Starring Ryan Gosling, Claire Foy, Brian d'Arcy James, Corey Stoll
Directed by Damien Chazelle
Genre Drama
SynopsisThe riveting story of NASA's mission to land a man on the moon, focusing on Neil Armstrong and the years 1961-1969. A visceral, first-person account, based on the book by James R. Hansen, the movie will explore the sacrifices and the cost on Armstrong and on the nation of one of the most dangerous missions in history.