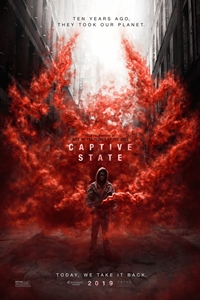 Opened March, 15th 2019
Rated PG-13
Runtime 1 hr. 49 min.
Starring John Goodman, Ashton Sanders, Jonathan Majors, Colson Baker
Directed by Rupert Wyatt
Genre SciFi/Fantasy
SynopsisSet in a Chicago neighborhood nearly a decade after an occupation by an extra-terrestrial force, CAPTIVE STATE explores the lives on both sides of the conflict - the collaborators and dissidents.