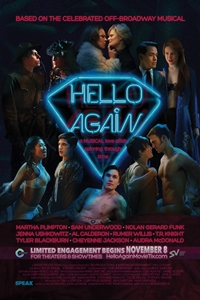 Opened November, 8th 2017
Runtime 1 hr. 45 min.
Starring Audra McDonald, Cheyenne Jackson, Martha Plimpton, Rumer Willis
Directed by Tom Gustafson
Genre Drama
SynopsisBased on the celebrated Off-Broadway musical: HELLO AGAIN chases 10 lost souls across 10 periods in New York City history in a daisy-chained musical exploration of love's bittersweet embrace. The pursued becomes pursuer as they slip in and out of one another's arms, spinning through 10 music-fueled vignettes which come together in 1 soulful circle.