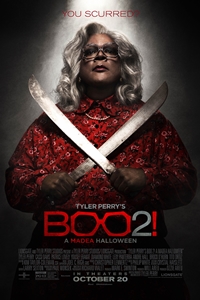 Tyler Perry's Boo 2! A Madea Halloween
Opened October, 20th 2017
Rated PG-13
Runtime 1 hr. 41 min.
Starring Tyler Perry, Inanna Sarkis, Brock O'Hurn, Diamond White
Directed by Tyler Perry
Genre Comedy
SynopsisMadea and the gang are back for this hilarious sequel. Madea, Bam and Hattie venture to a haunted campground and the group must literally run for their lives when monsters, goblins and the bogeyman are unleashed.