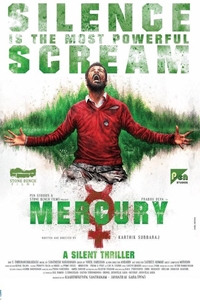 Opened April, 13th 2018
Rated NR
Runtime 1 hr. 48 min.
Starring Prabhu Deva, Sananth Reddy, Deepak Parames, Shashank Purushotham
Directed by Karthik Subbaraj
Genre Suspense/Thriller
SynopsisMercury is apparently a silent thriller film with the tagline 'Silence is the most powerful scream.' Prabhu Deva will play the villain opposite the protagonists Sananth, Deepak, Anish, Shashank and Induja. It has music by Santhosh Narayanan.