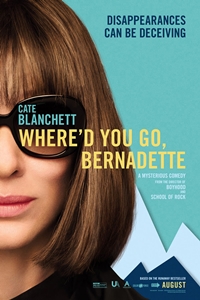 Where'd You Go, Bernadette
Opened August, 16th 2019
Rated PG-13
Runtime 1 hr. 49 min.
Starring Cate Blanchett, Billy Crudup, Kristen Wiig, Emma Nelson
Directed by Richard Linklater
Genre Comedy, Drama
SynopsisBernadette Fox, a Seattle woman had it all : a loving husband and a brilliant daughter. When she unexpectedly disappears, her family sets off on an exciting adventure to solve the mystery of where she might have gone.