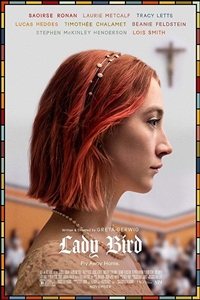 Opened November, 3rd 2017
Rated R
Runtime 1 hr. 33 min.
Starring Saoirse Ronan, Laurie Metcalf, Lucas Hedges, Tracy Letts
Directed by Greta Gerwig
Genre Comedy
SynopsisThe relationship comedy stars Saoirse Ronan as Christine McPherson, a rebellious student at a conservative Catholic Sacramento high school who wants to escape her family and small town constraints to go to college in New York.