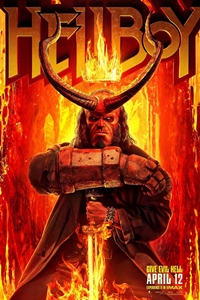 Opened April, 12th 2019
Rated R
Runtime 2 hr. 1 min.
Starring David Harbour, Milla Jovovich, Ian McShane, Daniel Dae Kim
Directed by Neil Marshall
Genre Action/Adventure
SynopsisThis action packed story sees the legendary half-demon superhero called to the English countryside to battle a trio of rampaging giants. There he discovers The Blood Queen, Nimue, a resurrected ancient sorceress thirsting to avenge a past betrayal. Suddenly caught in a clash between the supernatural and the human, Hellboy is now hell-bent on stopping Nimue without triggering the end of the world.