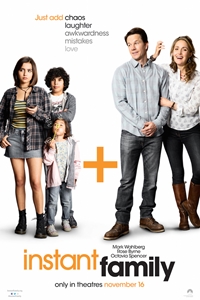 Opened November, 16th 2018
Rated PG-13
Runtime 1 hr. 59 min.
Starring Mark Wahlberg, Rose Byrne, Octavia Spencer, Isabela Moner
Directed by Sean Anders
Genre Comedy
SynopsisWhen Pete and Ellie decide to start a family, they stumble into the world of foster care adoption. They hope to take in one small child but when they meet three siblings, they find themselves speeding from zero to three kids overnight.