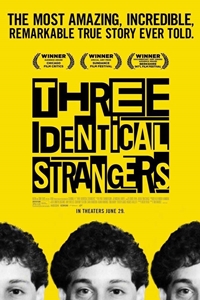 Three Identical Strangers
Opened June, 29th 2018
Rated PG-13
Runtime 1 hr. 36 min.
Starring Silvi Alzetta-Reali, Eddy Galland, Ron Guttman, David Kellman
Directed by Tim Wardle
Genre Documentary
SynopsisThree strangers are reunited by astonishing coincidence after being born identical triplets, separated at birth, and adopted by three different families. Their jaw-dropping, feel-good story instantly becomes a global sensation complete with fame and celebrity, however, the fairy-tale reunion sets in motion a series of events that unearth an unimaginable secret - a secret with radical repercussions for us all.