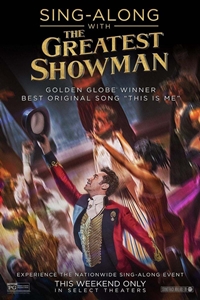 Greatest Showman Sing-A-Long, The
Opened January, 12th 2018
Rated PG
Runtime 1 hr. 45 min.
Starring Hugh Jackman, Zac Efron, Michelle Williams, Rebecca Ferguson
Directed by Michael Gracey
Genre Musical
SynopsisAmerica is singing along with the most entertaining movie of the year and now you can too. This weekend, attend a special sing-along screening of The Greatest Showman, the Golden Globe winner for Best Original Song. Join in at select theaters starting this Friday, January 12. Tickets on sale now!