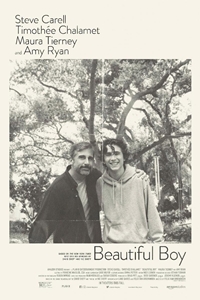 Opened October, 12th 2018
Rated R
Runtime 1 hr. 52 min.
Starring Steve Carell, Timothée Chalamet, Maura Tierney, Amy Ryan
Directed by Felix van Groeningen
Genre Drama
SynopsisBased on the best-selling pair of memoirs from father and son David and Nic Sheff, Beautiful Boy chronicles the heartbreaking and inspiring experience of survival, relapse, and recovery in a family coping with addiction over many years.