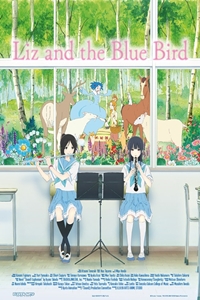 Opens November, 9th 2018
Rated NR
Runtime 1 hr. 30 min.
Starring Miyu Honda, Nao Toyama
Directed by Naoko Yamada
Genre Animation, Drama
SynopsisMizore Yoroizuka plays the oboe, and Nozomi Kasaki plays the flute in Kita Uji High School's concert band. As seniors, this will be their last competition together. The selected piece "Liz and the Blue Bird" features a solo for the oboe and flute. They're supposed to be "best friends" but the oboe and flute solo sounds disjointed, as if underscoring a growing distance between them. Talk of college creates a small rift in their relationship, as the story evolves to reveal a shocking and emotional conclusion.