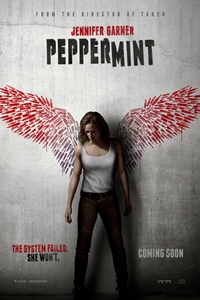 Opened September, 7th 2018
Rated R
Runtime 1 hr. 35 min.
Starring Jennifer Garner, Richard Cabral, Michael Mosley
Directed by Pierre Morel
Genre Action/Adventure
SynopsisPeppermint is an action thriller which tells the story of young mother Riley North (Garner) who awakens from a coma after her husband and daughter are killed in a brutal attack on the family. When the system frustratingly shields the murderers from justice, Riley sets out to transform herself from citizen to urban guerilla.