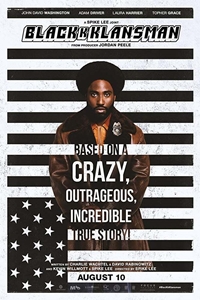 Opened August, 10th 2018
Rated R
Runtime 2 hr. 15 min.
Starring John David Washington, Adam Driver, Laura Harrier, Topher Grace
Directed by Spike Lee
Genre Drama
SynopsisFrom visionary filmmaker Spike Lee comes the incredible true story of an American hero. It's the early 1970s, and Ron Stallworth (John David Washington) is the first African-American detective to serve in the Colorado Springs Police Department.