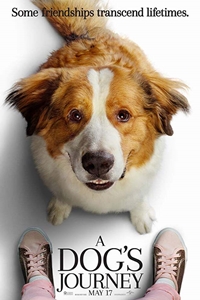 Opened May, 17th 2019
Rated PG
Runtime 1 hr. 48 min.
Starring Josh Gad, Dennis Quaid, Marg Helgenberger, Betty Gilpin
Directed by Gail Mancuso
Genre Family
SynopsisAudiences are invited along on A DOG'S JOURNEY, the next chapter of the beloved bestselling series by author W. Bruce Cameron. The family film told from the dog's perspective serves as the much-anticipated follow-up to the soulful story of one devoted dog who finds the meaning of his own existence through the lives of the humans he teaches to laugh and love.