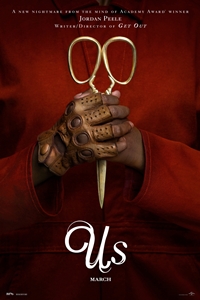 Opened March, 22nd 2019
Rated R
Runtime 1 hr. 56 min.
Starring Elisabeth Moss, Lupita Nyong'o, Winston Duke, Tim Heidecker
Directed by Jordan Peele
Genre Suspense/Thriller
SynopsisA mother and a father take their kids to their beach house expecting to enjoy time with friends. But their serenity turns to tension and chaos when some visitors arrive uninvited.