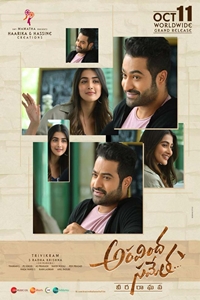 Aravindha Sametha (Aravinda Sametha Veera Raghava)
Opened October, 11th 2018
Rated NR
Runtime 2 hr. 42 min.
Starring Eesha Rebba, NT Rama Rao Jr, Pooja Hegde, Adarsh Balakrishna
Directed by Trivikram Srinivas
Genre Action/Adventure
SynopsisThe young scion of a powerful family with a long legacy of violence decides to put an end to the bloodshed - a journey that will also take him down a path of self-discovery.