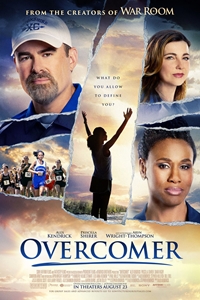 Opened August, 23rd 2019
Rated PG
Runtime 1 hr. 59 min.
Starring Alex Kendrick, Shari Rigby, Priscilla Shirer, Cameron Arnett
Directed by Alex Kendrick
Genre Drama
SynopsisThe movie centers on John Harrison (played by Alex Kendrick), a high school basketball coach who must reevaluate his career and future after local manufacturing plants force many families to relocate. After agreeing to become a cross-country coach due to the news, Harrison learns to mentor a promising young athlete and look inward to his own journey of faith and findings.

Are you excited about this movie? All of their movies, ranging from Flywheel to War Room, have exceeded expectations. It seems clear that God has used these films. How have the Kendrick Brothers' previous films impacted you personally? We'd love to hear your stories in the comments section below!

The movie is set to be released August 23rd 2019 and stars Ben Davies (Courageous), Priscilla Shirer (War Room), and Shari Rigby (October Baby).