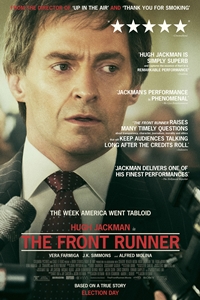 Opened November, 21st 2018
Rated R
Runtime 1 hr. 53 min.
Starring Hugh Jackman, Vera Farmiga, J.K. Simmons, Alfred Molina
Directed by Jason Reitman
Genre Drama
SynopsisSenator Gary Hart captured the imagination of young voters and was considered the overwhelming front runner for the 1988 Democratic presidential nomination when his campaign was sidelined by the story of an extramarital relationship with Donna Rice.