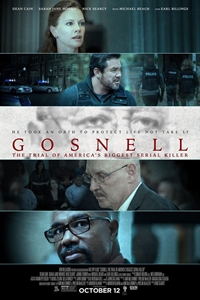 Gosnell: The Trial Of America's Biggest Serial Killer
Opened October, 12th 2018
Rated PG-13
Runtime 1 hr. 33 min.
Starring Dean Cain, Michael Beach, Nick Searcy, Sarah Jane Morris
Directed by Nick Searcy
Genre Drama
SynopsisThe film is the shocking true story of the investigation and trial of Dr Kermit Gosnell - his 30 year killing spree and the political and media establishment that tried to cover it up. Who can the investigators really trust when a routine drugs investigation uncovers a scandal that goes all the way to the top?