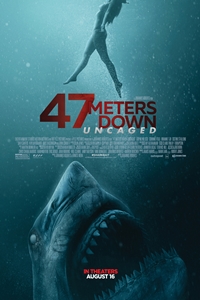 Opened August, 16th 2019
Rated PG-13
Runtime 1 hr. 29 min.
Starring John Corbett, Nia Long, Sophie Nelisse, Corinne Foxx
Directed by Johannes Roberts
Genre Horror
Synopsis47 Meters Down: Uncaged follows the diving adventure of four teenage girls exploring a submerged Mayan City. Once inside, their rush of excitement turns into a jolt of terror as they discover the sunken ruins are a hunting ground for deadly Great White Sharks.