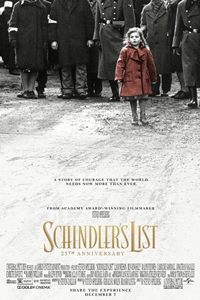 Schindler's List 25th Anniversary
Opened December, 7th 2018
Rated R
Runtime 3 hr. 15 min.
Starring Liam Neeson, Ben Kingsley, Ralph Fiennes, Caroline Goodall
Directed by Steven Spielberg
Genre Drama, War
SynopsisWinner of seven Academy Awards®, including Best Picture and Best Director, this incredible true story follows the enigmatic Oskar Schindler (Liam Neeson), who saved the lives of more than 1,100 Jews during the Holocaust.