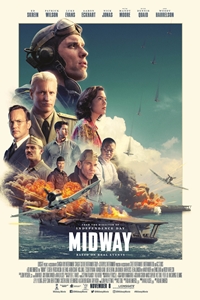 Opened November, 8th 2019
Rated PG-13
Runtime 2 hr. 18 min.
Starring Woody Harrelson, Patrick Wilson, Ed Skrein, Aaron Eckhart
Directed by Roland Emmerich
Genre War, Action/Adventure, Drama
SynopsisMIDWAY centers on the Battle of Midway, a clash between the American fleet and the Imperial Japanese Navy which marked a pivotal turning point in the Pacific Theater during WWII.