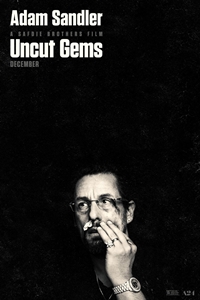 Opened December, 25th 2019
Rated R
Runtime 2 hr. 15 min.
Starring Adam Sandler, LaKeith Stanfield, Idina Menzel, Kevin Garnett
Directed by Benny Safdie, Josh Safdie
Genre Comedy, Drama
SynopsisAn electrifying crime thriller about Howard Ratner, a charismatic New York City jeweler always on the lookout for the next big score. When he makes a series of high-stakes bets that could lead to the windfall of a lifetime, Howard must perform a precarious high-wire act to protect himself from adversaries.